The Pointe-Saint-Charles Art School offers a variety of drawing classes and workshops for students of all levels and walks of life.
Landscaping the City
Landscaping the City is an eight-week series of online drawing workshops with the possibility of optional in-person meetups near Pointe St. Charles. Learning to draw is a way of seeing, and we will use rich artistic histories of landscape painting and drawing to see the city anew.
Workshops are free and demos will take place online, so it is recommended students have a stable internet connection. While drawing will be our primary media, students are welcome to produce artworks using whichever medium they like. Depending on the Covid-19 situation, the workshops may result in an exhibition in the winter of 2021. This workshop is free and open to all levels.
Instructor: Dave LeRue
Mondays, 6:30-9 pm
October 5 to November 30
To register, please email us info@pointestcharlesartschool.org
IMPORTANT:

1) Please, note that by confirming your participation you agree to comply with all the requirements and recommendations of the Public Health of Quebec and other government authorities for being in public spaces. Also please be aware that despite all the measures in place, there is no guarantee that you will not become infected with COVID-19.

2) For everyone's safety, please do not register for this class if you or anyone living with you has had cold or flu symptoms (including fever, cough, sore throat, respiratory illness or difficulty breathing) in the last 14 days.
The following classes are on hold during the Covid-19 confinement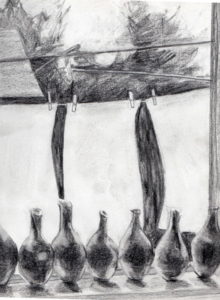 Drawing – Techniques and Expression
Drawing is a way of seeing and a way of experiencing the world. Drawing techniques help us transfer into images how we each, as individuals, observe and feel about the world around us. This ongoing class is for all levels from introductory to advanced. Drawing techniques will be taught through observational studies with an emphasis on line quality, tone and values, composition and perspective. Self-expression will be encouraged through enjoyable exercises designed to encourage the students to discover a personal style and a way of expressing what particularly interests them.
Instructor: Catherine Wells
Wednesdays, 1 – 4 pm
Ongoing class
8 weeks – $230 + tx
Realistic Drawing
This class offers techniques and strategies for putting on paper our visual experience.
Learn to look around and notice lines, shapes, textures, contrasts—and then draw what
you see, and what you remember. Perspective, structure, space, and shadows can be fun
to draw. Understand how space works on a flat surface, and create that space in your own
drawings. If you are interested in developing your ability to draw light and shadow, this
class is for you. Subjects include still life, nature, the human figure, interiors, landscapes,
city views, portraits. For beginners through advanced students.
Instructor: Eberhard Froehlich
Tuesdays, 18:30 – 21:30 pm
Ongoing class, join whenever you want.
8 weeks – $230 + tax (plus model fees)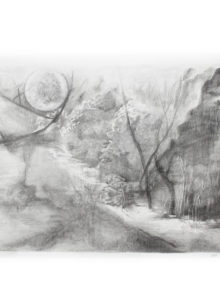 Contemporary Drawing
NEW ongoing class
Appropriate for artists of all levels, this class will ask students to push the boundaries of what can be done with simple drawing tools. Different techniques for blending, texture, and line-making employ a painterly approach to drawing that creates a space for artists to figure things out as they go, inserting concept and emotion into recognizable scenes. It will encourage experimentation with layering, representation, and abstraction, and students will draw content from their mind's eye as much as from their seeing eyes.
Instructor: Lucie Lederhendler
Coming soon
8 weeks – $230 + tx
---
The Pointe-Saint-Charles Art School offers affordable visual arts classes and workshops for students of all levels and walks of life
and is a non-profit registered charity.