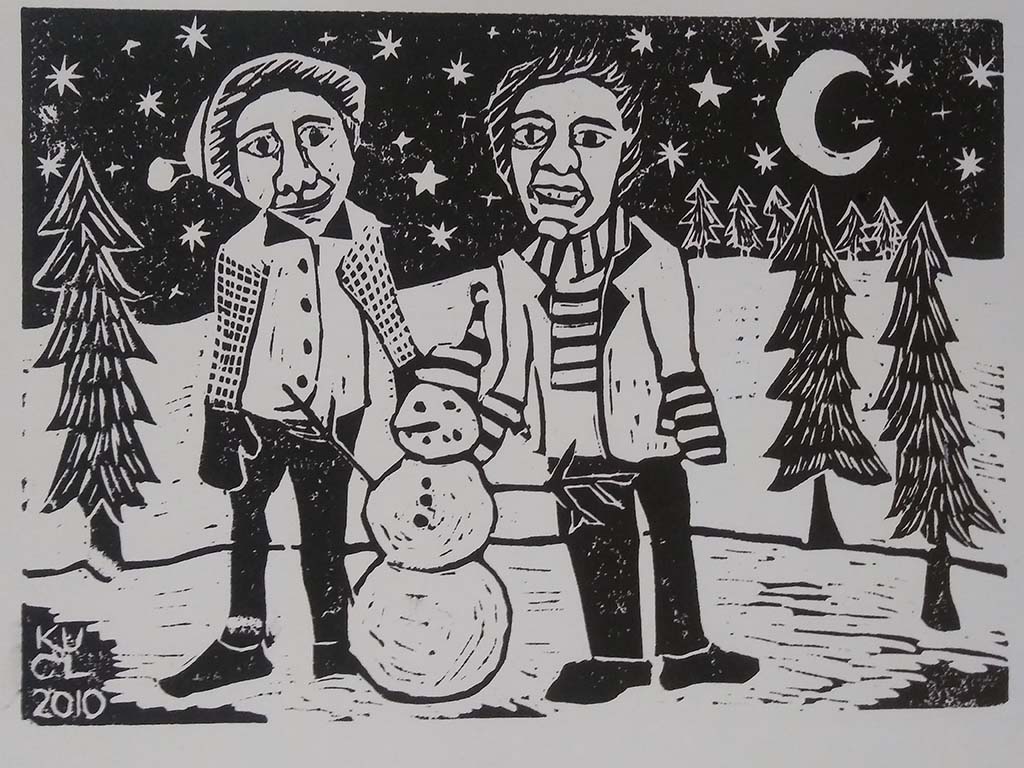 Relief Printing Workshop
Instructor: Kristina Urquhart
Fridays 9 am – 1 pm: January 20, February 17, March 24, April 21st (One-day workshop)
An introduction to relief printing materials and processes with lino plates and water based inks. Students will design a plate and learn the skills of cutting, colour mixing, inking, and printing.
Cost: $40 + $20 materials fee + tx
The payment is always for the upcoming workshop. Please make sure you have registered by 12 noon the Thursday preceding the current workshop.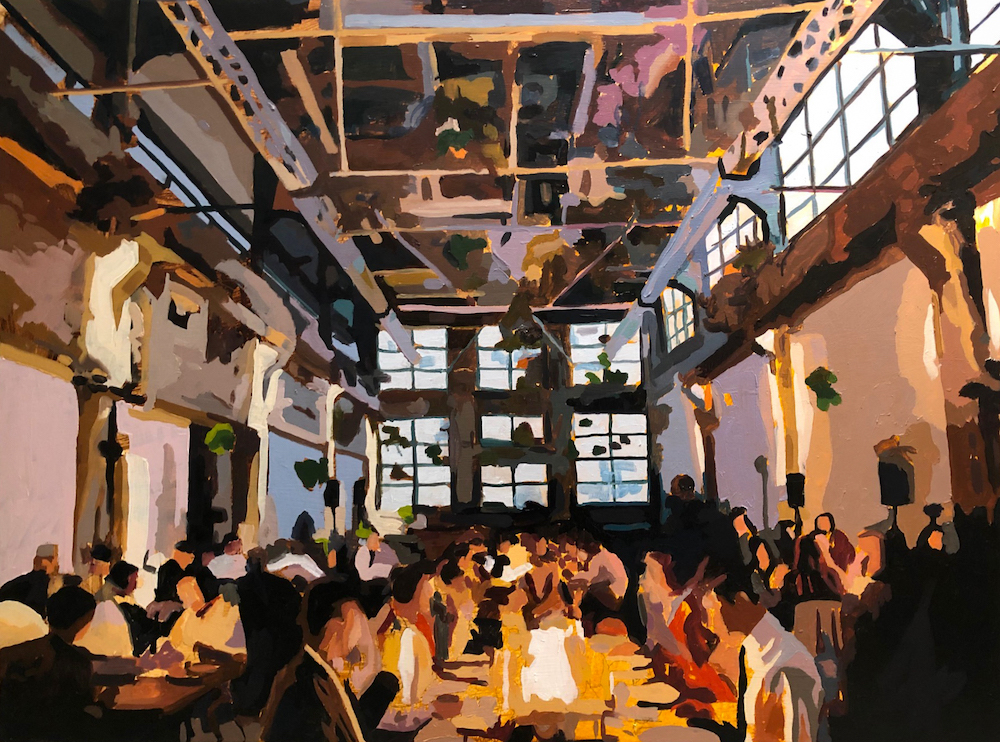 Developing a Personal Studio Practice
Instructor: Dave LeRue
Tuesdays 1 – 4 pm / ongoing
This is an open class to work at your own pace with instruction and guidance on a project inspired by personal preference. If you are working on something, bring it along, or start afresh at these sessions. The instructor will work one on one with students, offering individualized feedback as they develop a body of artworks. Not particular to any style or medium, and the instructor is specialized in painting and drawing. For beginners through advanced students. All welcome.
register anytime and pay for 8 weeks  $248 + tx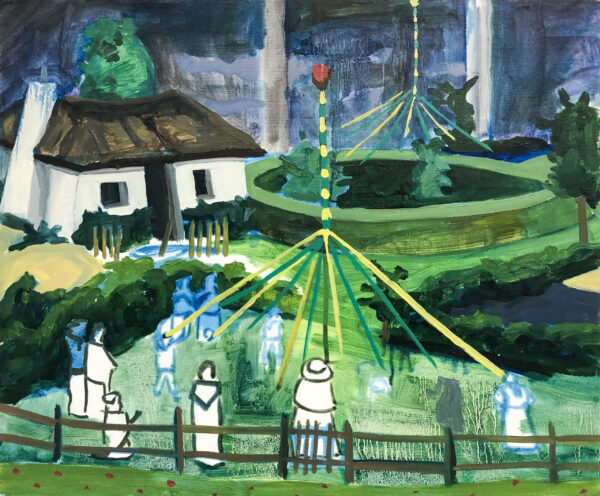 Painting Methods and Practice
Instructor: Dave LeRue
Tuesdays 6:30 – 9:30 pm / ongoing
Open to all, from beginners to advanced. We will explore many aspects of painting: From choosing your materials to picking your subject, we will constantly ask how painting can be turned from making a product (a painting) to an ongoing process combining ideas with technical knowledge. Each week will combine group discussions and lectures with exercises and longer projects. Works may span a few classes, and students may choose to continue working on skills and paintings outside class time through optional homework prompts. All course content will be designed with a range of levels in mind.  
Students are welcome to work in oil or acrylic. Required and recommended materials list are available upon registration.
register anytime and pay for 8 weeks  $248 + tx
Painting Techniques
Instructor: Eberhard Froehlich
Thursdays  9 am – 12 pm / ongoing 
For beginners through advanced students of painting. This practice-based class helps you understand the logic of colour interactions – what works and what doesn't work in paintings. Each week has a clear theme which is demonstrated and explained in the first half hour of class; afterwards each student is encouraged to explore the theme on their own. Students benefit from seeing each other's paintings and talking about the process; class critiques are twice per session, in order to share possibilities for how to develop each painting further. Emphasis is on sound painting technique and skills that will last a lifetime. We work from observation and from imagination.
register anytime and pay for 8 weeks  $248 + tx (full)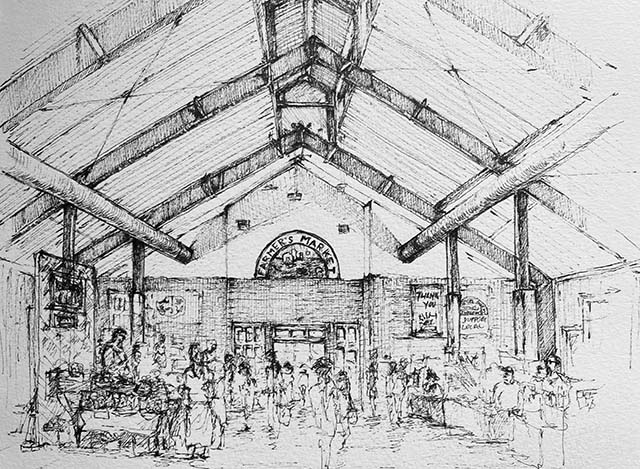 Introduction to Drawing  
Instructor: Jaclyn Turner
Thursday 6:30 – 9:30 pm / ongoing
This class covers a broad introduction to drawing and while geared towards beginners, the objective is to improve regardless of your skill level. We will discover the entire process, from warm-up exercises, to concept sketch, to a more complete piece. Technical aspects will be covered, such as composition, perspective, proportions, light and shadow but will also allow time to loosen up, experiment, and to be more playful. Basic drawing supplies are needed. Please bring a pencil and sketchbook to the first class, where we will discuss your goals and what materials you should purchase.
Cost: $248 + tax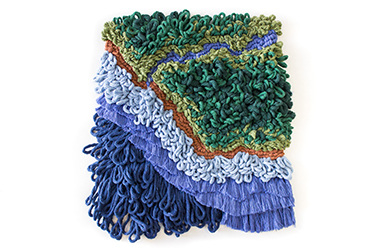 Tapestry Weaving on a Loom
Instructor: Zoe Compton
Wednesdays 6:30 – 9:30 pm / starts January 11 / 8 weeks (no class February 8)
Tapestry weaving is an environmentally sustainable art practice that offers the artist endless possibilities of creativity. In this course, students will create decorative tapestries
using a loom frame, learning the stitches and techniques for creating shapes and incorporating textures and fringes. The instructor will share with you her creative process from beginning to end: from finding inspiration for ideas, the construction of a loom, creating the piece, to the final touches. The looms that we use in class will be free for students to take home and continue working on their pieces between classes. Join us to be inspired and express yourself with a hands-on artistic medium.
Cost: 8 weeks  $248 + tx + Materials fee $40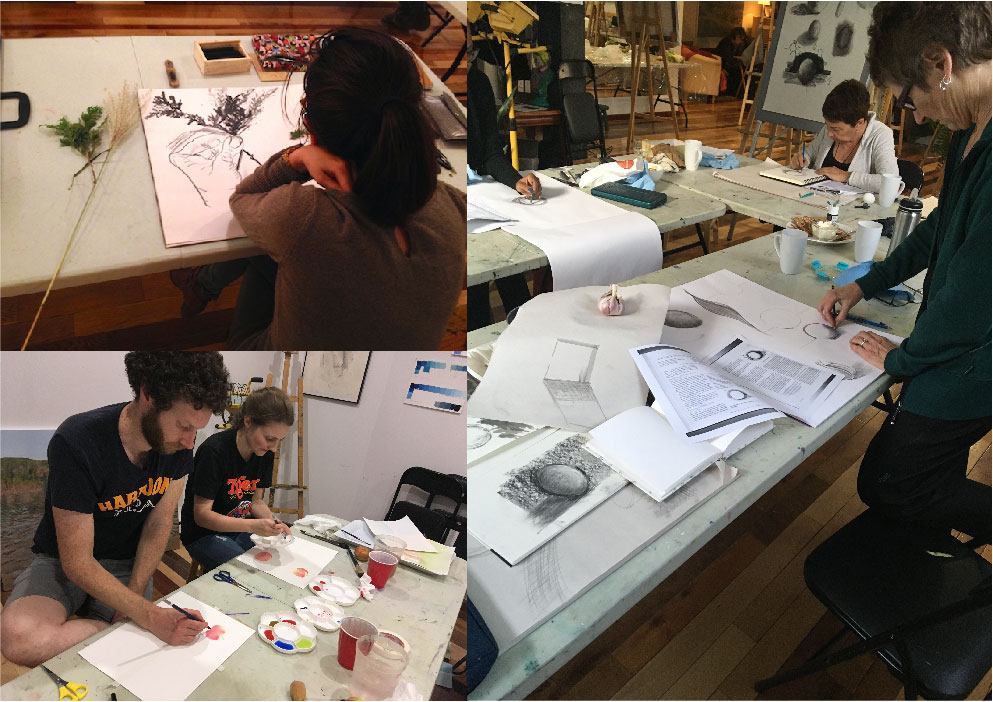 Developing a Portfolio for University or CEGEP Fine Arts Programs 
Instructor: Dave LeRue
10 Weeks of classes. Sunday, 1:00 – 5:00.
Dates: November 20 – December 11, with a holiday break, restarting January 8 – February 12. Inclement weather make-up day: February 19.
Developing a portfolio for post-secondary education can be a challenging endeavour, and this studio-based course is designed to demystify the application process and to help you develop a 15-20-image portfolio that demonstrates your artistic, conceptual and technical abilities. Students will develop their drawing, painting, sculptural and printmaking abilities through weekly class exercises and homework assignments. In collaboration with the instructor, students will also develop an individual project tailored to your desired program. We will cover how to document work and how to write an admission letter. A small class size means students will have lots of one-on-one time with the instructor, who will offer personalized feedback during and outside of class. This course is open to all who want to improve their artistic ability but is specifically tailored for those applying to studio arts programs that ask for a portfolio. Success in this class requires a minimum of 4 hours per week on projects outside of class time.
Please share the portfolio requirements of the school(s) and department(s) you wish to apply to when you register, including links to the website if available.
Course will be taught in English, but translations of specific techniques and discussions can be offered.
Cost: $390 + $40 materials fee. In-class materials are provided, but students may have to purchase materials for personal projects as needed.
Maximum of 12 registrants. Registration will close when the class is full.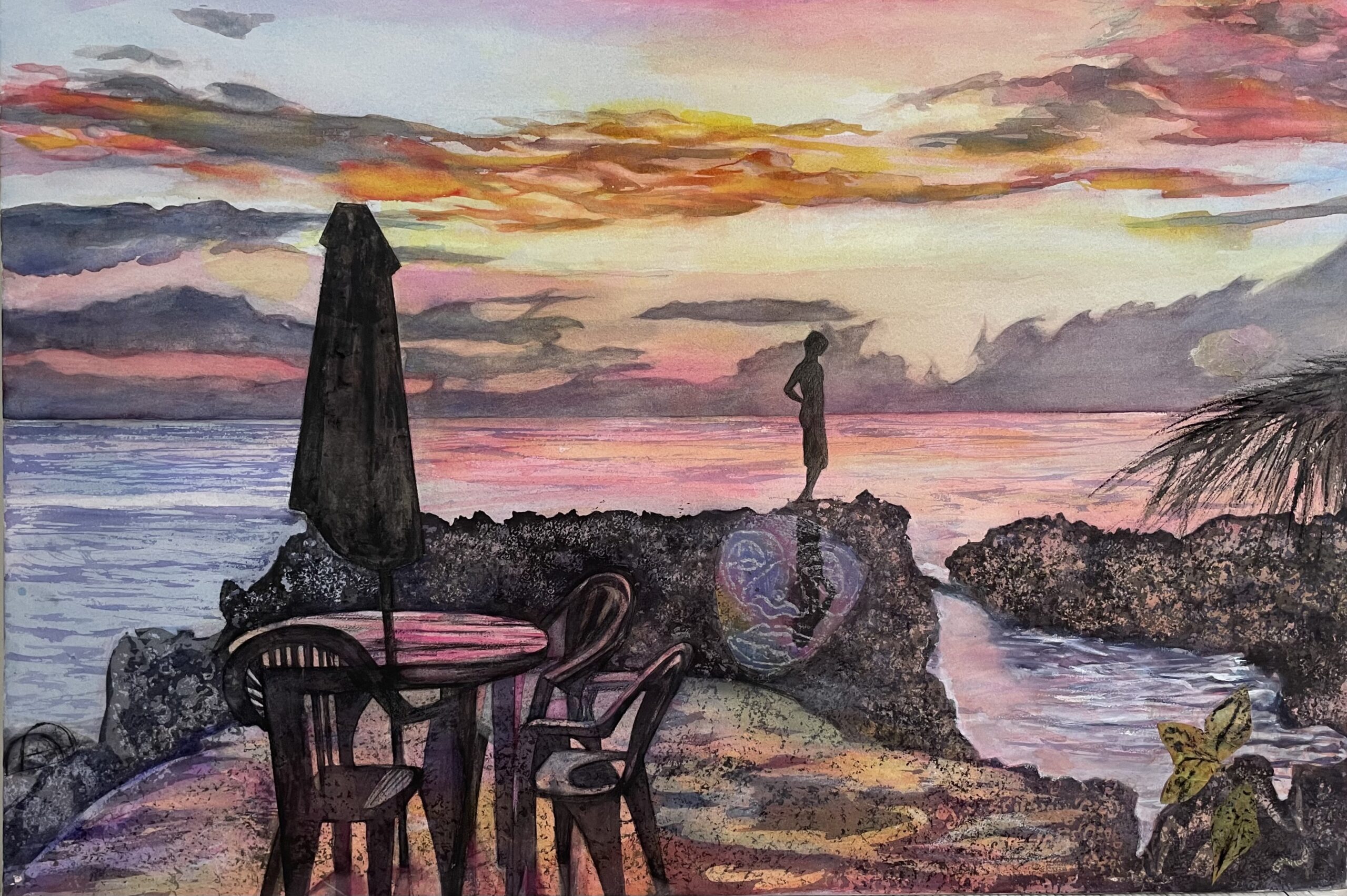 Watercolour & Mixed Media
Instructor: Louise Drouin
Explore watercolour and collage techniques that stretch the imagination and encourage self-discovery. Learn the basic layering process using a variety of rice paper, natural, tinted and stained and adhering them to watercolor surfaces to provide a textured ground for painting. Create exciting surfaces, cut and tear shapes, use them as collage textures. Combine rice papers, watercolour, acrylic paint, inks, gouache, and pastels to enhance your artwork.
Email for information: info@pointestcharlesartschool.org
Registration may be done on the Internet on each class page by using the PayPal button under the course description, by telephone or in person. We are offering ongoing classes. You can register for certain classes whenever you wish.

Office Hours via email (info@pointestcharlesartschool.org) / phone Monday 10 am – Friday 12 pm (514 935-7107). If your course starts on the weekend, please make sure you have registered by 12 noon on Friday.
---
The Pointe-Saint-Charles Art School offers affordable visual arts classes and workshops for students of all levels and walks of life
and is a non-profit registered charity.