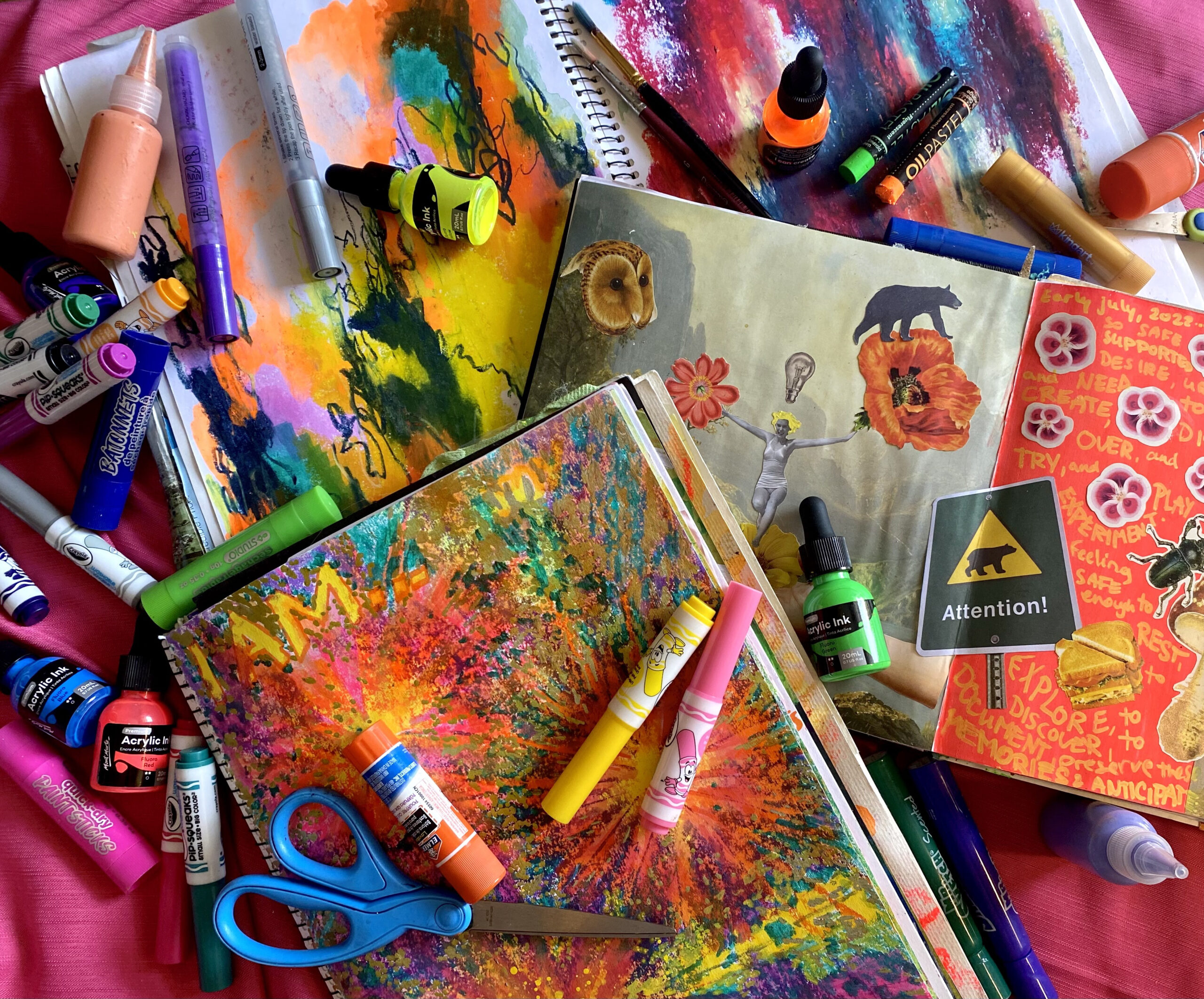 Visual Art Journalling
Instructor: Claire Ponka
Thursdays 6:30 – 9:30 pm / start October 12 / 8 weeks
This "Art-as-Therapy" beginner-level art course aims to support individuals seeking a creative outlet, but who may be unsure where to begin. Fun "unblocking" techniques will be offered, in the form of games, mindful prompts and low-pressure art activities, so individuals can practice orienting their artistic focus towards the process of art making, while releasing expectations about the final product; healthy arts-based coping mechanisms will be developed as a result. Students will be encouraged to experiment with art materials in novel ways, and build a personal library of expressive techniques that will be contained in a personal Visual Art Journal. Please note: although this art class will be led by an Art Therapist, this class is NOT an art therapy group.
Cost: $248 + tx / We have subsidized spaces for those for whom it is unaffordable. To apply, please contact us by email at info@pointestcharlesartschool.org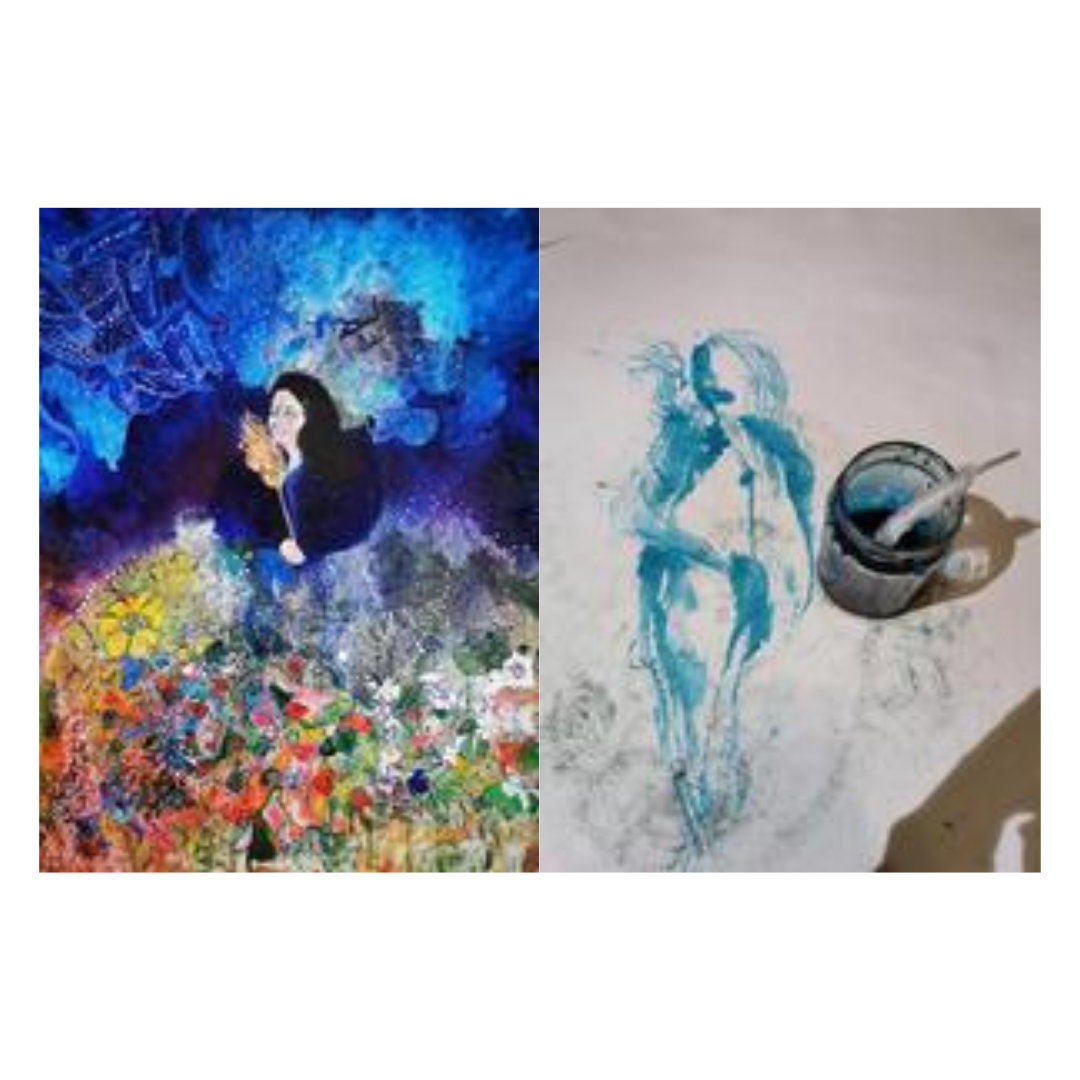 Portrait Painting Workshop
Instructor: Dorothy Skutezky
Saturdays 1 – 4 pm / start October 14 / 4 weeks
This four-week workshop is devoted to introducing a holistic approach to portrait painting in oil. We will explore foundation-building, intuitive techniques in wet and dry media including natural and traditional materials and tools. By feeling our way through different approaches to the creative process, we will learn how to create a layered oil painting. We will discover the surprising ease with which we can develop beautiful, personally resonant images. This class is for everyone! Beginners to more experienced artists are welcome.
Cost: $124 + tx + $40 materials fee
Painting Techniques
Instructor: Eberhard Froehlich
Thursdays  9 am – 12 pm / ongoing
For beginners through advanced students of painting. This practice-based class helps you understand the logic of colour interactions – what works and what doesn't work in paintings. Each week has a clear theme which is demonstrated and explained in the first half hour of class; afterwards each student is encouraged to explore the theme on their own. Students benefit from seeing each other's paintings and talking about the process; class critiques are twice per session, in order to share possibilities for how to develop each painting further. Emphasis is on sound painting technique and skills that will last a lifetime. We work from observation and from imagination.
register anytime and pay for 8 weeks  $248 + tx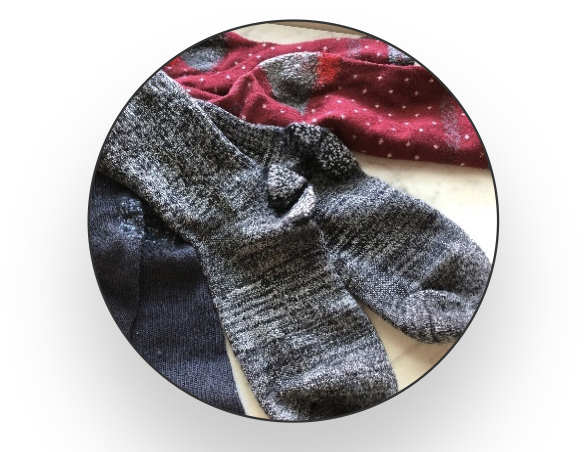 Mending Matters, creative slow stitching for repair and wellbeing
Instructor: Francine Lévesque
Sunday 1 – 5 pm / one-day workshop on October 15
For the artist, visible mending is a creative act, where wear and tears become opportunities to showcase stories with colourful threads and textiles. Moreover, the act of slow hand stitching creates a meditative and relaxing ritual that is soothing to the mind and soul. In our throw-away consumer society, mending is a self-reliance skill, and as such can  be understood as a political act. In this workshop you will learn two adaptable repair techniques in their more creative applications. We will work on visible mending making the stitching visible with simple embroidered appliqué patches both on knits (socks and sweaters) and on woven cloth (jeans and shirts). "As we mend, we repair our textiles, our spirit and our souls."
Cost: $55 + $10 materials fee + tx / 4h workshop
Please note that you need to bring additional materials from home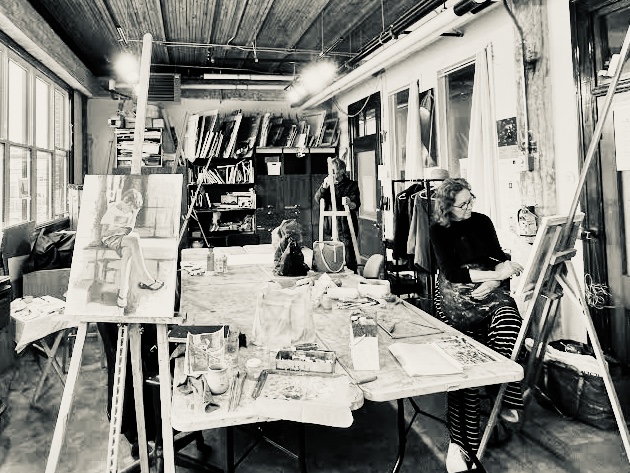 Studio Practice
Instructors: various
Mondays 12 am – 3 pm / drop-in / restart Sept 18 / ongoing
This is an open class to work at your own pace with instruction and guidance on a project inspired by personal preference. It is a drop-in Studio practice class where we share knowledge, thoughts and support, and a 30 min critique at the end. An instructor will be present to offer individualized feedback. If you are working on something, bring it along, or start afresh at these sessions.  Not particular to any style or medium, and the instructors are specialized in painting and drawing. For beginners through advanced students. All welcome.
Cost: 3h incl tx $25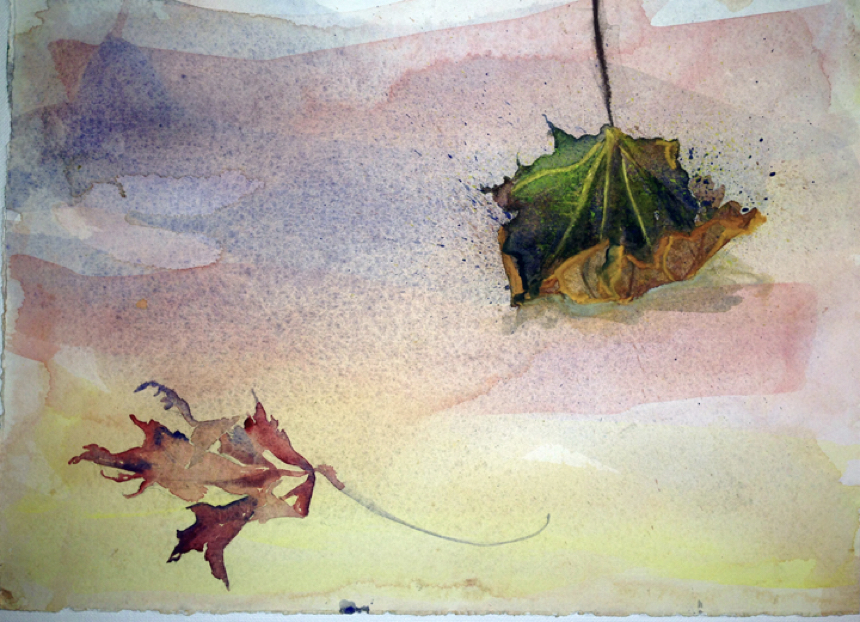 Watercolour Workshops – Celebrate the Abundance of Autumn
Instructor: Louise Drouin
Sunday, Sept 10, 24 & Oct 1, 22  / 11 am – 2 pm / 3h workshop
Autumn is a moody season bursting with bright colors, multi-colored burnt hues, dramatic skies, crisp air, crunchy leaves, harvest bounty, golden light, a true feast for the senses. A perfect inspiration to unleash your creative juices and let it flow in watercolour painting. Learn the tools and techniques of the medium while painting directly from nature through still-life and plein-air sessions. Each workshop will focus on a different theme to allow for a more in debt and richer experience. All are welcome.
Place: The Pointe-Saint-Charles Art School, the Atwater market and Lachine canal
Sept 10 – Autumn Flowers / Sept 24 – Autumn Harvest / (Oct 1 – Autumn Trees – cancelled) / Oct 22 – Autumn Leaves
Cost: $40 + $10 materials fee + tx / 3h workshop / Please register by 12 noon on Friday
Sign up for the workshop on: October 22 –  Autumn Leaves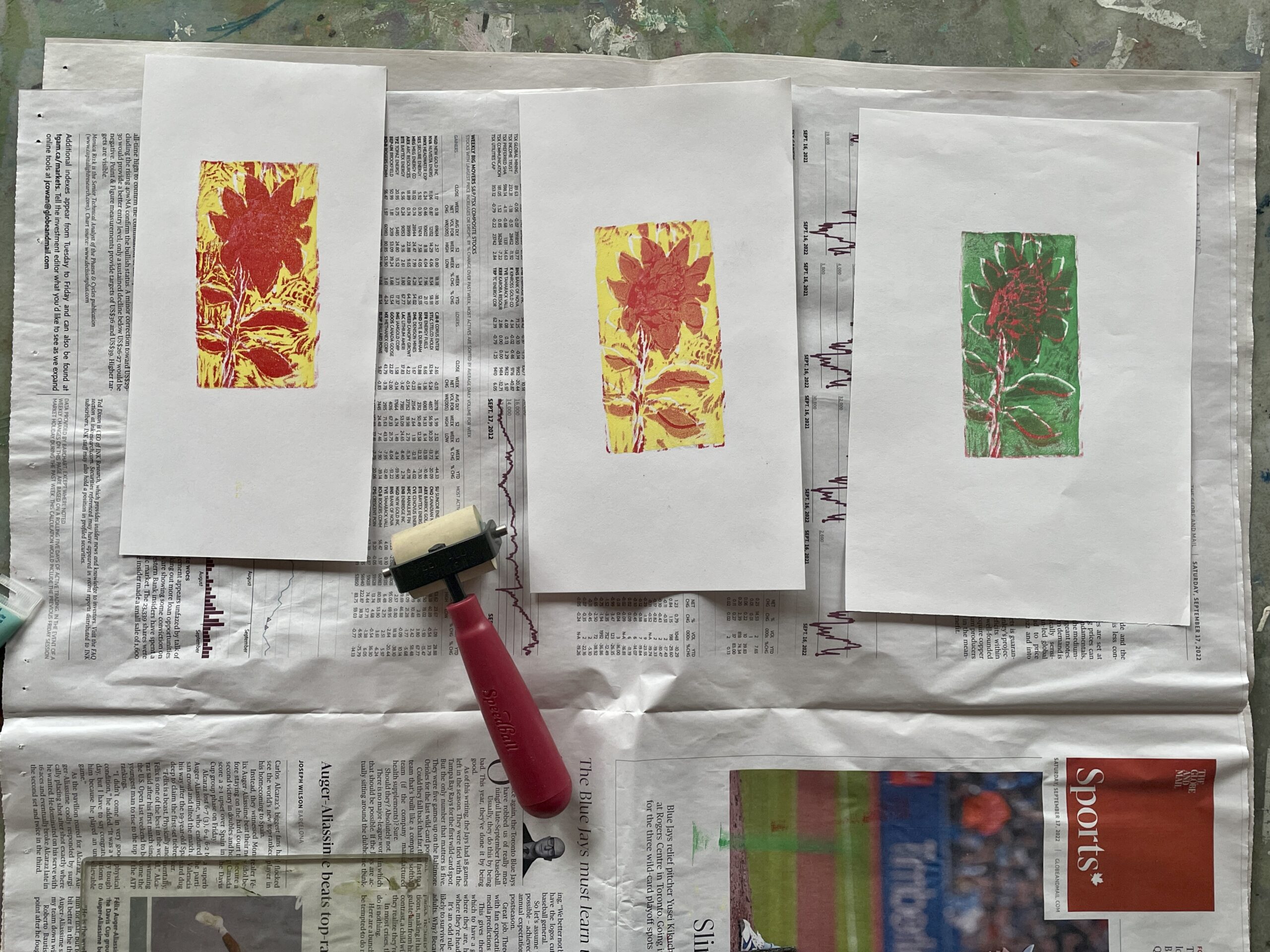 Relief Printing Workshop
Instructor: Kristina Urquhart
Fridays 9 am – 1 pm / one-day workshop on Sept 29, – cancelled!, Oct 27, Nov 24
An introduction to relief printing materials and processes with lino plates and water based inks. Students will design a plate and learn the skills of cutting, colour mixing, inking, and printing. To attend the Friday workshop, please register until Thursday, 12 noon.
one day workshop (4h): $40 + $20 materials fee + tx
Sign up for October 27: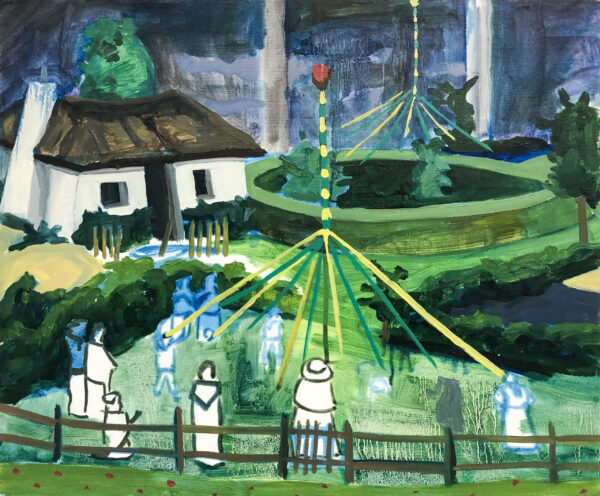 Painting Methods and Practice
Instructor: Dave LeRue
Tuesdays 6:30 – 9:30 pm / ongoing / Full course, currently no registration possible
Open to all, from beginners to advanced. We will explore many aspects of painting: From choosing your materials to picking your subject, we will constantly ask how painting can be turned from making a product (a painting) to an ongoing process combining ideas with technical knowledge. Each week will combine group discussions and lectures with exercises and longer projects. Works may span a few classes, and students may choose to continue working on skills and paintings outside class time through optional homework prompts. All course content will be designed with a range of levels in mind. Students are welcome to work in oil or acrylic. Required and recommended materials list are available upon registration.
register anytime and pay for 8 weeks  $248 + tx
Bookbinding and Artists' Books
Instructor: Tina Jubinville
Wednesdays 6:30 – 9:30 pm / start September 20 / 8 weeks
This course is designed for all skill levels and explores the book as a means of expression. Students will be introduced to various traditional binding techniques, such as Japanese stab binding and saddle stitching, as well as non-traditional methods they can use to create a book. This is a creative approach to bookbinding which will be taught through demonstrations, discussions and guidance in creating one's books. Ideas of narrative, journaling, collecting and documenting will be examined and a variety of examples will be brought to class. Students will also learn related techniques like image transfers, collage and simple ways to create pattern on paper. A new technique will be introduced each week but students will be able to work at their own pace in a relaxed atmosphere.
Cost: $248 + tx + $40 materials fee
Introduction to Drawing
Instructor: Jaclyn Turner
will be offered in fall 2023 again
This course covers a general introduction to drawing and, although it is aimed at beginners, the aim is to improve at any level of skill. We will explore the whole process, from warm-up exercises to conceptual sketches, with a view to more complete work. Technical aspects will be covered, such as composition, perspective, proportion, light and shadow, but we will also take time to relax, experiment and have fun. Basic drawing materials are required. Please bring a pencil and sketchbook to the first class, where we will discuss your goals and what materials to purchase.
Cost: 8 weeks  $248 + tx