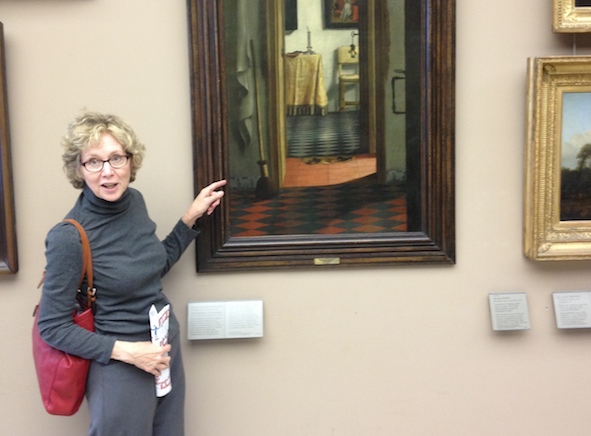 Here are a few activities to make your next visit to the museum a little more interaciive. There is no need for art materials – just bring your imagination!
The Senses Game – Look at the painting and see if you can find a matching sense perception. For example, if the artwork made a sound what would it be, had a smell, what would it be, how would it feel if you could hold it? This can be played with a variety of things – realistic and abstract paintings, sculptures, historical items…
The purpose of this game is to help viewers understand and experience a work of art more fully.
Being There – Imagine you are in the painting you are looking at. Where are you in it. And what are you doing? Is it cold or warm? What's your name? Do you have a pet? What time of year is it? Is there a breeze? And you can make up many more. Children often come up with some pretty funny answers.
I Spy – Just like the original game only the "Spyer" picks something in the picture, and says what colour it is. You can add "getting hot" and "getting cold" to this if the guesser is having trouble.
This is to encourage viewers to spend time really looking at a particular piece.
Past, Present and Future – Ask yourself or someone you are with to imagine what happened just before the scene depicted in a painting, and/or what might happen next.
This is to help understand why the artist chose to depict a certain moment, and to see if there is a larger story that can be inspired by the piece.
Live Art – Take the same pose as a person (or a tree or an animal…) in one of the pieces of art in the room. This can just be for fun, or to have someone else guess which artwork the person is mimicking.
Twenty Questions – After looking at the paintings or sculptures in a room, pick one in your mind, and have your partner ask questions in order to guess which one it is. They have to be Yes and No questions, e.g. Is it large? Is there a tree in it? etc.
ART ACTIVITIES AT THE MUSEUMS for Families
The Montreal Museum of Fine Arts has Family Weekend Workshops as well as special Birthday Party events for children.

The Musée d'art contemporain holds art workshops connected with their collection for both families and just adults on Sundays and Tuesdays respectively – www.macm.org/en/education/tours-and-workshops
The McCord Museum is very family friendly with workshops for children and adults of all ages starting from babies and their parents. Stroller access, feeding room and a changing table make it very welcoming to budding artists and their parents – www.mccord-museum.qc.ca/en/activities/culturalactivites/
by Catherine Wells
Dirctor, Pointe-St-Charles Art School