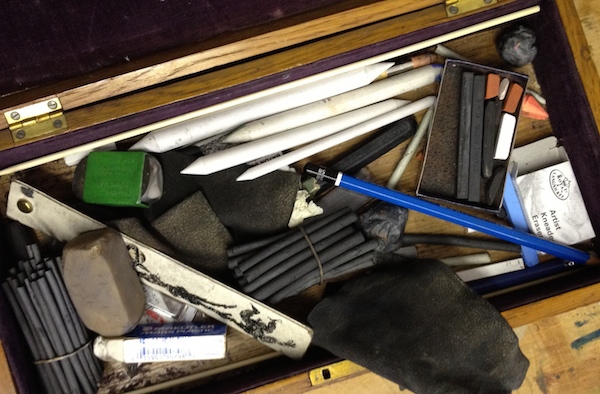 Art Supplies are the Best!

The woman next door and I went out for lunch at Aux Vivres on St. Laurent last week. We had been talking about art and such as we often do – we like to go to galleries together. I asked her how long it has been since she did any art herself. She sighed and said, "too long!"
So as soon as we had finished our meal, I took her with me to the artist's co-op around the corner on Villeneuve East (No. 10 to be exact) to inspire her. Nothing like scads of fantastic art making materials to build up a bit of enthusiasm.
The co-op is a great old place and is probably one of the last holdouts of sixties and seventies leftist values. It is an underground art store in all senses of the word. You have to go down a narrow metal staircase, of who knows what vintage, and into a cramped but inviting space filled with a great variety of high quality and affordable art materials. It is for those who take art seriously (which I think should be everybody).
As a cooperative, it's five dollars for a year's membership  and the member's discounts are very good. I am pretty sure it is  the cheapest place to buy canvases. And they do great framing too. As far as I know it really is one of two last small shops selling art supplies in the old tradition with lots of personal attention and a real vibe that you are among artists helping artists.
After lunch, we headed to Westmount for tea (no crumpets), and visited the second one.  Avenue des arts on Victoria is charming little store – also down a staircase but with a very different feel than the co-op. It is like a step back in time with wooden drawers and glass cases, and beautiful stone walls. It is run by the owners and they always are very welcoming. If they are not there, anyone manning the store is very helpful and knowledgeable – usually an artist herself.  It reminds me of Cornelissen's, a small but famous art supply story I visited in London many years ago, which has been in business for over 150 years.
There is something delightful about going into an art supply store – or even visiting one online. The luscious colours of paints, markers, pastels; canvases, papers and sketchbooks of all sizes; pencils, charcoal, pens and erasers for every drawing effect you could hope for. Clay and plaster and other sculpting products invite play and invention.
Here is a list of some others I know about and frequent – either in person or online:

Encadrements de Cèdres is very popular among Montreal artists (their website is under construction at this writing). They have a lot of branches but do not seem like a big chain. Their product range is excellent, good prices with a lot of specials, and a friendly and helpful staff. My favourite store is the one on Laurier and Papineau.

Omer de Serres, although a big chain now, is an old Quebec company started in Montreal in 1908. Guy/Concordia Metro is my favourite branch as it has the feel of a small art store. It serves the student population of the attached Concordia Fine Arts department and as such, they don't carry very much of the arts and crafts materials that the others offer, mostly straightforward art materials. The manager and staff are very friendly and helpful.
Two great online sources:
Curry's , a Canadian company headquartered in Toronto, has been in business for over a hundred years. They have a lot of products, many specials and often you can get free shipping. Returns are easy and the staff are very helpful if you need to phone.
Daniel Smith is an American online art supplier. I have never shopped there but have friends who swear by them.
My friend came away with a pad and some watercolour pencils, and I dropped her off at the park to do some sketching. I bought some very cool erasers to add to my art box that you can see at the top of the page.
So please, go to an art store. Be Inspired! Here are a few photos of the co-op and Avenue des arts to encourage you…
(I wasn't allowed to take photos inside the co-op but you can get the feel from the outside – inside it is a treasure cave of wonderful stuff!)
by Catherine Wells
Director, Pointe-St-Charles Art School