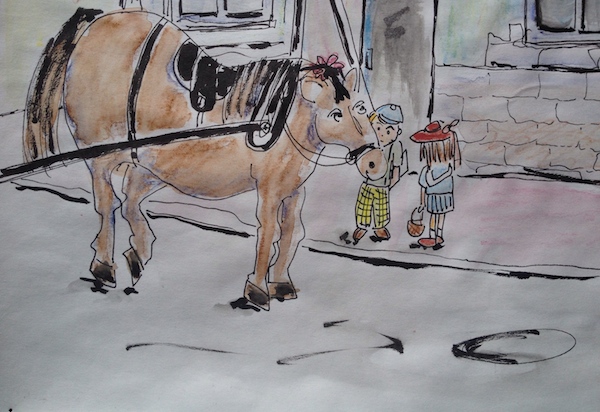 by Catherine Wells,
Pointe-St-Charles Art School
Edith and Raymond are my two new friends. They are staying with the woman next door for a few days, as their school finished early this year. Edith is her niece and Raymond is Edith's best friend, and they are both seven years old. I met them at our neighbourhood festival where I was (wo-)manning the face painting booth. Edith wanted to be a fish and Raymond, Bat Man. Bat Man was easy, the fish a bit more of a challenge but, all to say, they were happy with the result and we had become fast friends by the time their faces were done. Edith asked me if I liked being an artist, and I replied that I loved it more than almost anything. "Me too!" she said. She is very earnest and asked if they could come visit our art school.
How could I resist? So once we had done with the festivities, we headed over. We had a grand time. Edith and Raymond settled into the space to make some art. They both knew what they were going to do. Edith pulled out a yellow paper package from the woman next door's shopping basket – they had come via the Atwater Market – and unfurled it on an art table. It held the brightest and most beautiful stalks of gleaming red rhubarb with vivid green leaves you could imagine. After setting her up with a paint tray, brushes, water, and such, I turned to Raymond. He was already hard at work doing a drawing in his own sketchbook. A bit hard to make out at first but when I asked him to tell me about it, he clearly described the Griffintown Horse Palace. It is the last one standing in Montreal and they had had a look at it the day before. The scene was completely rendered from a bird's-eye view and it was all there: stables and carriages, horses, buckets of water, roof tops and puddles. It was quite spectacular, and I wished I had his ability to see from space! Looking back to Edith, I saw that she had dashed off an enviable expressionistic rendering of the glories of the rhubarb and the yellow wrapping paper. When I asked why they were such wonderful artists, Edith answered, "Well, we do art all the time, of course. It's the only way to get good!"
I have spent my whole life doing art with children. Art is good for children, for the development of their creative minds, their imaginations, to discover who they are and what they particularly like to think about – what they find beautiful, or scary, or weird, or funny, or even sad about the world. Human beings develop because something in the human psyche demands it. The creative spirit resides in each of us: it is the impulse which animates our personalities. It unites us and at the same time gives us our unique identities.
School will be out soon and the young people you know and love will be looking for things to do. If you want to find ways to keep them busy and happy, and would like to advance their development through the arts at the same time, here are some practical guidelines to promote artistic expression and creativity:
Do art with your children but also encourage them to work alone.

Take cues from your children when you work together – let them suggest to you what to do rather than the other way around.

Work with your children at their pace and developmental level.

Allow feelings (even negative ones) to be expressed in the artwork – and talk about them if the child wishes to.

Set up an art space – a corner of a room with a little table and chair, containers with glue sticks, scissors, crayons, pencils, sparkles, etc., and a variety of paper. Or store art materials in a box to bring out and use at the kitchen table on a regular basis.

Acknowledge and encourage your children's artwork – display it: put it on the fridge or frame it.

Borrow from the library or buy arts and crafts books to get ideas, or look on the Internet.

Recycled materials and inexpensive items from the Dollar Store can provide hours of artistic expression.

Give art supplies, music CDs, puppets, costumes, art books, etc., for birthday and holiday presents.

Go to museums, puppet shows, concerts, children's theatre.

Check out the many art classes and art camps in the city.
Unfortunately I won't be able to show you Edith's and Raymond's finished art because they took it home to put into what they call their Treehouse Gallery, where only the very best work goes. I'm mailing them my photo of themselves as Bat Man and the Fish to hang there. I hope it meets with their selection criteria. Meanwhile at the top of the post you can find a little illustration I did of them…