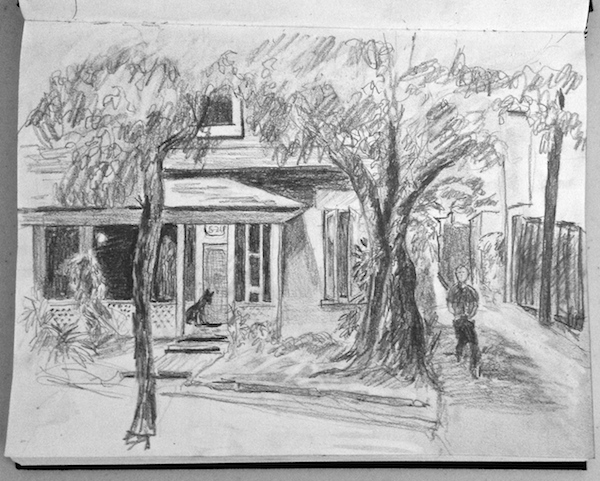 Urban sketching has really taken off. There are societies for it, clubs, online meet-up groups and exhibitions. It is a real renaissance!
During the twentieth century sketching in general took a back seat to photography, the brand new technology that was dazzling everyone. Drawing became something one went to art school to do, and its everyday practice as a gentle pastime that had been popular up till then began to fade away. And in particular, pastoral sketching in the countryside was on the wane, not just because of the camera but also as a result of changing demographics.
More and more people are city dwellers now. In 1851, 87% of Canadians lived in the country, and 13% in the city; by 2011, it was almost reversed with 81% living in the city and 19 % in the countryside. (Stats Canada)
The city environment is here to stay, and urban sketchers are saying, "Let's make the most of it and find the beauty on street corners and back lanes, in industrial growth – and decline, landmarks and heritage sites evoking memories of our predecessors who built them. And at the same time, let's return to using our hand to capture the image and not let modern technology distract us from that skill used for so many centuries by human beings."
Times have changed – and so have the scenes. The industry and modernization that occurred during the late nineteenth and throughout the twentieth century altered the view, so to speak. So as we pick up our charcoal sticks and pencils again, there is a whole new world to depict, along with the remnants of the old one.
Historical Pointe-St-Charles is a particularly attractive place to sketch, with its streets of quaint little houses, pretty parks, train tracks and canal; with its industrial ruggedness and commercial streets with many old fashioned restaurants, bars and shops mingling with new businesses.
The Pointe-St-Charles Art School is starting an urban sketching group. Come join us on Tuesdays from 1 – 4 pm. Choosing a different and interesting location in the Pointe every week, an instructor will be on hand to help out with techniques and helpful tips – it's only $10. On rainy days, we will find interesting indoor sites – churches, museums, cafés …
And we will be sharing the images in a special online gallery on our Facebook page.
Why sketch with others? Well, it offers inspiration, the exchange of ideas and techniques, feedback and continuity. It is a way to encourage good drawing habits and a routine so necessary for the maintenance of an art practice.
The urban sketchers movement started in 2007 by a Spanish journalist living in Seattle. In 2008, the group started a blog: http://www.urbansketchers.org/
The group is limited to invitation only, but nonetheless has contributed greatly to the renewal of onsite sketching in cities.
FYI, here is their manifesto – a good one for any drawing group to follow:
We draw on location, indoors or out, capturing what we see from direct observation.
Our drawings tell the story of our surroundings, the places we live and where we travel.
Our drawings are a record of time and place.
We are truthful to the scenes we witness.
We use any kind of media and cherish our individual styles.
We support each other and draw together.
We share our drawings online.
We show the world, one drawing at a time.
Any burgeoning enthusiasm is usually accompanied these days by many, many reference books. You just need to search online to see the array of wonderful references and how-to texts on the subject.
But there is nothing like working together with like-minded people. Come and join us – bring your books, materials and ideas – let's make a community here of urban sketchers.
What you need to sketch outdoors:
The Absolute Basics:
A sketchbook
Pencils and erasers and sharpener
Optional:
Something to sit on – a portable stool or chair.
Other drawing materials of your choice, charcoal, conté, pens, coloured pencils, pastels, paints, etc
A ruler
View finder
Board and clips
Larger paper
Hope to see you! Check out our site for more information!