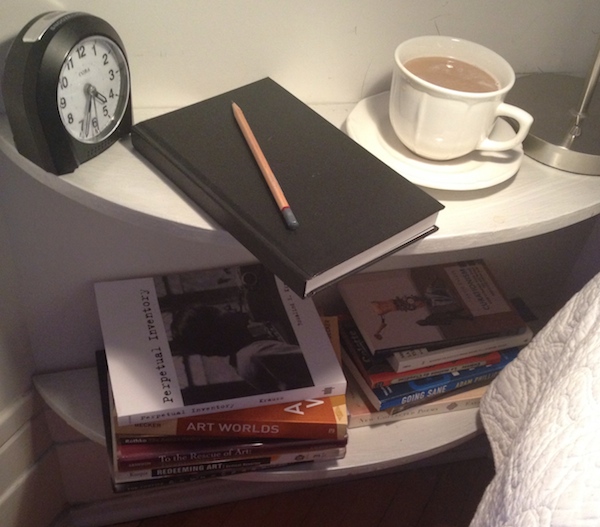 "Have you heard about Mark Zuckerberg's book club?" Oswald asked, ploppling himself down on the couch at the art school. He had dropped by with his latest discovery from the tea world, Oolong coated in Ginseng. He is trying to reduce his coffee intake and is making a study of teas as a diversion. "Mark Zuckerman has a book club!? You've got to be kidding me." "He does indeed. He makes New Year's resolutions – and keeps them, which doesn't surprise me actually. And this is this year's. Anyway, it made me think of you. You are always suggesting books to people, especially art books. It's your inner librarian and your desire to improve people that I find so charming." Hmm, I wondered if that was a compliment.
All this while he was making the tea – he poured a cup of tea for each of us. "Take this book, for example." He picked up a recent book about Joan Mitchell, an abstract painter from the fifties which was lying on the coffee table in our "comfy corner" at the school. "She was part of the Abstract Expressionist movement that was blowing the socks off everyone at the time. And Riopelle's girlfriend, by the way, which in Canada may have been her chief claim to fame. An art dealer in New York told her he wished she was male, dead and French, and then her stuff would sell better. Pretty nervy of him! I know about her because my aunt moved in the outer reaches of that French/English modern art circle in the fifties here, hanging around in coffee houses and talking art all night." He sighed a bit and took a sip of tea. "Looks like a great book, may I borrow it? Maybe she mentions Auntie." I said of course, as Oswald is religious about returning books.
After he left, I settled down (with another cup of his Oolong tea) to work on this blog. I remembered an article I had written about the pleasures of summer reading – the languid days spent on holiday with a favourite pile of books. But winter reading is an escape also – sitting curled up at home, cosy in pyjamas and fuzzy socks, or reading on the bus to relieve the boredom and darkness of a winter commute – or over breakfast to start the workday inspired by great characters and deeds.
I read over that old article and decided to reprint some of it here for you. Reading has been a passion and a source of strength for me all my life, and I miss no opportunity to share the value of reading, especially about the great characters, mythical, fictional or real, who have shaped the world we know.
As a child, I devoured every fairy tale I could get my hands on – many times over: my children's copy of the Greek myths; stories from the Hebrew Bible a friend of my mother's gave me; "Folk Tales From Many Lands". And I particularly relished a book of my brother's about heroic wartime escape stories. Growing up Catholic, I read the lives of the saints, inspiring accounts of virtue and vice, courage, faith and integrity in the face of cruelty and ignorance. All these characters, heroines and heroes lived life to the fullest in their own ways, sometimes escaping a dreary or desperate existence, other times experiencing the outermost limits of excitement, drama and adventure. Now, I have turned to the lives of artists.
In recent years, I have been reading their biographies in much the same spirit as I read about saints, brave soldiers or the simple characters of fairy and folk tales, myths and history, standing up to the rich and powerful, part-human, part-god, part-animal creatures of ancient Greece and pagan Europe, or despots (petty or otherwise) of a modern and sometimes equally frightening world. Their lives are every bit as interesting to me.
I have read Dora Carrington's life story twice, and the movie about her with Emma Thompson is one of my cult favourites. I have a book of her diaries. She painted deep and unusual portraits and landscapes – as well as her walls and furniture. She documented her world and the adventures of her friends and lovers in simple sketches and little drawings sprinkled throughout her many letters. She hated being a woman, made pies and jam, wore breeches and short hair, loved men. After living a rich life, she chose to end it early when her dearest friend died. She and others are not mythical creatures, or lost in the mists of time, or faced with the arduous decisions of wartime. They lived each day as artists, courageously in my opinion, wishing to gain every ounce of experience it had to offer, each in a way unique to them – and inspiring to others, if not in their own time, in ours.
There are so many, many artists and their stories to choose from. Here's a partial list of some I have read over the last few years.
The Art of Dora Carrington by Jane Hill.
A Border of Beauty: Arthur Lismer's Pen and Pencil by Marjorie Lismer Bridges, a loving memoir by his daughter.
The Women of Beaver Hall: Canadian Modernist Painters by Evelyn Walters, a great, well-written history of some of Canada's best and under-represented painters, and it's a nice peek into Montreal of the early to mid twentieth century.
Anne Savage, the Story of a Canadian Painter by Anne McDougall, about the beloved art teacher at Baron Byng High School to the likes of Mordecai Richler and his contemporaries, and good friend of A. Y. Jackson. This is a lovely look at a remarkable woman.
Bonnard. There are tons of books on Bonnard but I find he particularly tells his life story through his paintings and I can browse any picture book about him to soak up his colours, composition, and depictions of endless afternoons spent with his wife Marthe – in and out of the bathtub.
Fairfield Porter: An American Classic by John T. Spike (I found this one at the Concordia Library – it's very expensive online. If anyone knows of a reasonably priced copy, please let me know! It's a beauty). He is another painter like Carrington and Bonnard who painted life – family, friends and home – with vigour and accuracy of feeling. And this was at the height of Abstract Expressionism. Now he is considered by some to be America's best painter of the twentieth century.
C. Wyeth, A Biography by David Michaelis is a long, thorough and easy to read biography of a very complex and talented artist who gave America many of its greatest illustrations of children's classics, and at the same time raised a large family, teaching them all to paint, and starting a painting dynasty in the process.
Lucian Freud, who recently died, has been called the greatest painter of our times, and is largely responsible for the renewal of realism and figure painting. There are an endless number of books about him. My favourites are Lucian Freud, Painting People, and Man with a Blue Scarf: On Sitting for a Portrait for Lucian Freud, written by Martin Gayford, a British art critic who chronicled his year and a half as Freud's model.
Bemelmans: the Life and Art of Madeline's Creator by John Bemelmens Marciano and Ludwig Bemelmans. Besides his "Madeline" books, he was an excellent painter and it shows in the backgrounds of his children's book illustrations. He lived a large life and fed all his experiences into his art and stories.
And this is the pile next to my bed that I am having a lovely time with this winter:
The Artist's Reality, Philosophies of Art by Mark Rothko. This is a collection of the artist's essays and critiques which lay quietly in a storeroom until his son lovingly edited them and published them in homage to a great and often misunderstood painter.
Joan Mitchell – Lady Painter by Patricia Albers. I haven't read this one yet but it's next on the list – when I get it back from Oswald. I am increasingly interested in this period in art.
The following two are not bios but more about the art world and artists generally and have piqued by interest:
Perpetual Inventory by Rosalind E. Krauss, another brainy, brave woman in the art world of the fifties and sixties and who is still writing in her engaging and topcial way about what she thinks thinking about art has to be constantly evolving.
Art Worlds by Howard S. Becker. A surprising chatty book by a academic and social anthropologist writing since the sixties who is also a jazz musician as fond of playing in seedy clubs in Chicago as in understanding art and urban life. It's about how, in his opinion, art is in many ways a group effort. More about this in a later blog, once I have finished it.
I chose all of these because I am interested in these people, their art, their ideas. But also I wanted to know more about the people behind the pictures. What inspired them, why they painted what they painted, how they lived – and could I be like them, or paint like them a little. Some are artists I have discovered recently, others I have known since childhood. I wish I could paint like all of them – in my own way, and I try. Ambitious of me, I know, but this is the consequence of my early reading. There is something to be learned from the life of every artist who has braved this complex and sometimes unfathomable human journey of ours, and pictured it with precise brush strokes and colours, subject matter and composition to give us their vision of it, to pick out from all their experience what they found to make sense of it, using the elements of their existence and placing them in such a way as to create order from the chaos of sensory input and societal demands.
This is my list and it is based on people and art I have wished to know more about. Go and search out your favourites. If you are looking for anyone specific, it is easy to Google them now and find books online – one leads to another, and it is so much fun to order a book and have it come in the mail. On the other hand, browsing through the many wonderful bookstores in the city, large ones and small, brings surprises. In a second-hand bookstore, investigate the art section and you will discover artists and art periods you never even knew existed. Of course, there are libraries. Anyone can join the Montreal ones for free, and there are others that charge a small fee. Or spend an afternoon or evening in a university library. You may not be able to take the books out, but no one will stop you from going up and down the stalls in the art section, and sitting in a quiet corner to look through your finds – many out of print now. And you can photocopy sections if you want.
If you don't know many artists, look online – discover ones you like then search out their bios. There really is no better way to get through winter than to learn more about what inspires and encourages us. Turn off the news, give Facebook a break, and sink into the intimacy and conviviality of a good book.
Catherine Wells
ART CLASSES IN DRAWING, PAINTING, WATERCOLOUR, AND SCULPTURE FOR STUDENTS OF ALL AGES.
POINTE-SAINT-CHARLES ART SCHOOL, 805 rue Hibernia, Montreal, QC, H3K 2T3